Die-Cut Targets
Exclusive Thermal Die-Cut Targets.
No Power,  Passive, thermal targets are your solution for target training with a Thermal sight.
The peel and stick shapes convert any target backer into a thermal target. 
These pre-cut shapes are a low-cost option for your target portfolio.  E types, circles, squares, rectangles, guns, etc… can be used to create people, vehicles, and structures. 
For more information about the target backers visit US Molders.
6 Advantages to Using Thermal Targets
How Die-Cut Targets Work
Thermal targets work without power because like all our Thermal films the target will reflect the temperature of the sky -40℉ or -40℃.
When viewed with a Thermal sight will appear dark or cold. The area around the thermal film will appear warm or white.
The contrast allows for precision aiming and training.
Learn More: 6 Advantages of Using Thermal Targets
Patent #US 7,528,397
Features
Use with Thermal imagers (FLIR)

Easy to set up, ready to shoot in minutes
Can sustain many rounds of training because of the ripstop back
Extend life of target with use of pasters
Peel and stick back
100% Money Back Guarantee
Die-Cut Images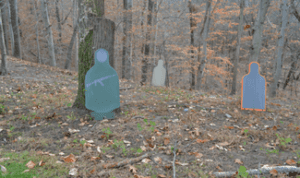 Click here to view more Die-Cut Targets
Available Shapes: Circle, Square, Hand Gun, Rifle, Rectangles, Trapezoids and Repair pasters
Order Now !
100% Money Back Guarantee