Passive Die-Cut Targets
Is it time to train with your thermal (FLIR) optics?
Look no further.
Passive thermal Die-Cut Targets are built with our exclusive High Contrast thermal film. The films emissivity is 10-20%, which translates into an extraordinary contrast image.
IR.Tools, High Contrast passive targets prepare you for those life saving shots.
The peel and stick shapes convert any target backer into a passive thermal target.
These pre-cut shapes are a low-cost option for your target portfolio.  E types, circles, squares, rectangles, guns, etc… can be used to create people, vehicles, and structures.
6 Advantages to Using Thermal Targets
FLIR and the Benefits of Thermal Film Partnership
How Passive Die-Cut Targets Work
The thermal optics on your weapon will contrast the temperatures in your scene or environment.
Primarily, Military and Law Enforcement use the "white hot" or "black hot" settings on their FLIR (thermal) devices. 
If your optics are set to "white hot", the environment around the thermal film with appear white and the thermal target will appear black.  The "black hot" setting would project the environment as black and the thermal target as white.
Either way the High Contrast passive thermal target will "pop" out for accurate precision training.
Learn More: 6 Advantages of Using Thermal Targets
Patent #US 7,528,397
Features
High Contrast passive target image pops so shooter has clear vision of target.
A peel and stick back for easy set up and ready use. Save time!
Ripstop back sustains a boat load of rounds, extending use for multiple training sessions.
You determine the shape you want! Just ask!
Die-Cut Images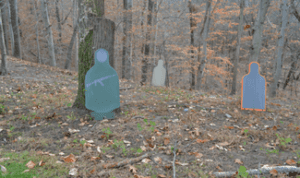 Click here to view more Die-Cut Targets
Available Shapes: Circle, Square, Hand Gun, Rifle, Rectangles, Trapezoids and Repair pasters
Order Now !
100% Money Back Guarantee