Garrison IR Patch – Non-covert
Working in the dark is dangerous. And you need to avoid injury.
The Garrison IR patch is worn when the danger of being hit by a car is greater than being hit by a bullet.
While this IR patch can be viewed by Night Vision devices, this IR patch is NOT covert.
Available as an IR flag patch, call sign, morale, unit patch, and custom designs.
Made with IR.Tools™ exclusive SandStorm Technology™.
Available in hybrid (picture to the right) and printed styles.
How the Garrison IR Patch Works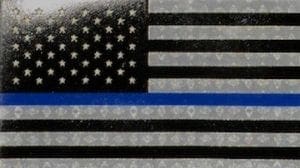 Garrison IR patches are made with IR Reflective film.
This patch reflects white light to the naked eye as well as reflects infrared light to an NVG device.
For example, when white light ie… headlights, flashlights, moonlight etc… hits the IR patch, the light reflects back to the source of the light.

The most familiar use of this kind of reflective film is used with street signs and road markers.
While this IR patch can be viewed with Night Vision devices as well, this is recommended for a non-covert operation.
IR.Tools™ garrison IR patches are made with SandStorm Technology™, an exclusive process that protects against water, sand, and debris. These IR patches will not fall apart or fail to glow.
Primarily for identifying with the naked eye
Can use with Night Vision Devices Standard 2″ x 3.5″ and custom sizes available
Clean laser designs on hybrid IR patches. Fabric choices
Durable hook backing (velcro)
Available as an IR flag patch, call sign, morale patch, unit patch etc…
3 Easy Steps to Solve Your ID Problems:
1. DISCOVER: We will listen and evaluate to Discover and better understand your problem.
2. DESIGN: Next, with this information, our engineers will Design a new ID or recommend an existing ID to solve your unique problem.
3. DELIVER: Finally, we will Deliver a premium IR ID patch or marker to protect you.