Flip IR Patch – Covert and Non-Covert
2X The Protection
The Flip IR Patch gives you 2 protection options.
1. Covert IFF protection keeps you hidden.
2. Non-covert protection glows in the dark.
Both sides are built with "hook" (velcro) allowing you to "peel and flip" the patch as necessary.
Made with IR.Tools™ exclusive SandStorm Technology™… a unique one-layer process that prevents water and debris from destroying your patch.
Not sure this is what you need? We want to help you secure the correct protection.
Call: 443.292.8885,  email: info@ir.tools
or fill out our contact form.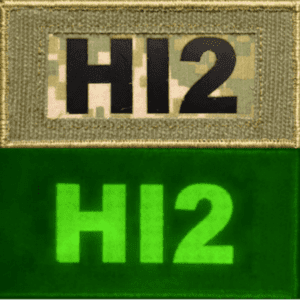 This unique IR patch is built with two different infrared films:  Reflective film and Photo-luminescent film. 
1. The covert  IR patch side absorbs white light (flashlight) and reflects infrared energy.
Therefore, when a headlight or flashlight hits the patch, the patch cannot be seen. Yet when an illuminator on a Night Vision device (NVG) hits the patch, the IR patch will reflect the light. The patch will glow and you are detected.
2. The Photo-luminescent side absorbs the energy from the sun or flashlight and releases it back in a blue-green glow. This side of your patch is visible to the naked eye.
You choose your size … standard 2″ x 3.5″ and custom sizes available
In-house engineers are ready to design your logo or morale sign. See fabric choices.
Hook backing (velcro) on both sides for easy peel and flip
3 Easy Steps to Solve Your ID Problems
1. DISCOVER:  Call 443.292.885, email info@ir.tools, or fill out our contact form.  We will talk and Discover what your needs are: including your operation, logo, etc… to better understand your problem.
2. DESIGN: Next, with this information, our engineers will Design a new ID or recommend an existing ID to solve your unique problem.
3. DELIVER: Finally, we will Deliver a premium IR ID patch or marker to protect you.