Garrison IR Patch – Non-covert
Do you work in the dark sometimes and worry about a friendly accident?
An IR.Tools Garrison IR patch keeps you safe when the danger of being hit by a car is greater than being hit by a bullet.
White light bounces (reflects) off the patch back to the direction of the light source for your protection. Although the patch can be viewed by Night Vision devices, this IR patch is NOT covert. So we do not recommend to use in a stealth operation.
Available as an IR flag patch, call sign, morale, unit patch, and custom designs.
Built with IR.Tools™ exclusive SandStorm Technology™, a process that increases the patch glow by 250% and prevents it from falling apart at the seams.
Laser-cut (picture to the right) and printed styles.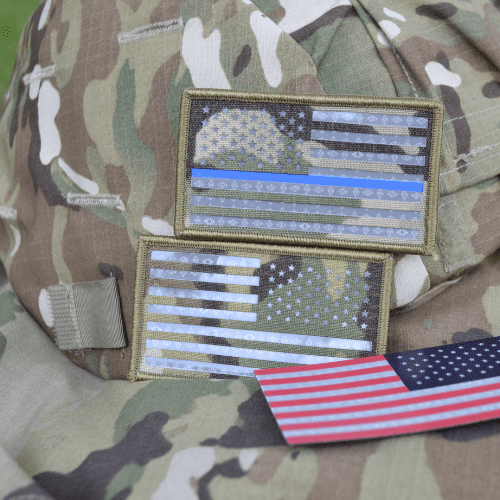 Built with SandStorm Technology™, for unmatched durability and 250% brighter.
Reflects white light to alert your location to those approaching you.
Your hook-backed patch easily attaches to your uniform loop piece for a quick get-up and go.
Our in-house engineers create your logo into a one-of-a-kind patch you are proud to wear.
Over a dozen fabrics to choose from to match your uniform perfectly.
How the Garrison IR Patch Works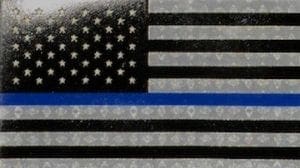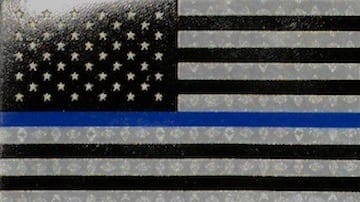 Garrison IR patches are made with IR.Tools exclusive SandStorm Technology.
SandStorm Technology uses perfectly formed micro prisms built as one seamless layer. Therefore, unlike standard honeycomb IR patches, water, sand, and debris do not damage the patch.
This patch reflects white light to the naked eye as well as reflects infrared light to an NVG device.
For example, when white light ie… headlights, flashlights, moonlight, etc… hits the IR patch, the light reflects back to the source of the light.


The most familiar use of this kind of reflective film is used with street signs and road markers.
Recommended for a non-covert operation only!
3 Easy Steps to Solve Your Identification Issues:
1. DISCOVER: Call 443.292.885, email info@ir.tools, or fill out our contact form. We will talk and Discover what your needs are: including your operation, logo, etc… to better understand your problem.
2. DESIGN: Next, with this information, our engineers will Design or recommend an infrared solution for your unique problem.
3. DELIVER: Finally, we Deliver a premium infrared ID patch or marker in 2-4 weeks.
Learn the differences in your IFF protection. Did you know there are different films to choose from? Click here to get the scoop.