IFF 3/4″ Glow Patch
IR.Tools™ no graphic IFF glow tape patch is made with a proprietary process exclusive to IR.Tools. This nearly indestructible process is called SandStorm Technology™.
Features include:
a unique one layer process prevents water and debris from destroying the patch
250% brighter glow so friendlies will easily spot your location
resistance to white light reflection so your position is safely hidden.
3 backings to choose from: Hook, Knit, Peel and Stick
Available in squares, sheets and rolls.
 Give us a call at 443.292.8885 or fill out our contact form.
IR. Tools™ IFF tape products are built with SandStorm Technology™, an exclusive process that protects against water, sand and debris. These patches will not fall apart or fail to glow.
Night Vision Devices illuminates IFF tape for protection against friendly fire.
Various sizes from 3/4″ square to 12″ sheet are available for your custom applications.
Choose your hook, sew-on or peel and stick backings to match uniform requirements.
How the Glow Patch Works
IFF  glow 

patches 

reflect infrared energy. The illuminator on a Night Vision device reflects off the patch and identifies you as friendly.
Once identified as friendly you are protected from friendly fire.

 
Your IR patch is not visible to the naked eye under darkness.
White light (moonlight or flashlight) does NOT reflect off the patch. Instead the light is absorbed into the patch and your position remains hidden. Thus, your covert position is not compromised.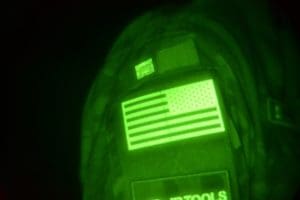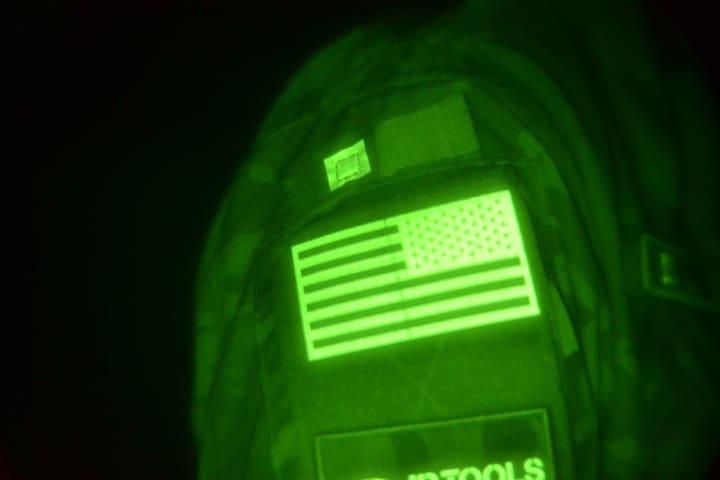 Night Vision illuminator reflecting off an IFF tab and US Flag on soldier.
3 Easy Steps to Solve Your ID Problems:
1. DISCOVER: We will talk and Discover what your needs are: including your operation, logo, etc..  Give us a call at 443.292.8885 or fill out our contact form.
2. DESIGN: Our engineers will Design or recommend an infrared solution for your protection.
3. DELIVER: Finally, we will Deliver a premium IR ID patch or marker to protect you.