Zeroing Your Thermal Sight – Outdoors/Indoors
New Generation of Zeroing Target
Shooting a thermal target is tricky.
Why?  Because 1st generation thermal target material requires the shooting target to lean back at a 15° angle. Without the angle little to no contrast is visible to the shooter.  This step waste time for the shooter.  Instead of practicing, the shooter must create an angle with on a vertical target stand.  
Our new Upright Thermal materials eliminates the need for an angle. 
Just staple the Upright Thermal Zeroing target to the stand, aim and fire.
It is that simple.
Inspired by Army methods used for years, this exclusive thermal zeroing target produces a remarkably tight aim point. Combining old methods with new materials for a hassle free zeroing session. Effortless to mount. In minutes you are zeroing your rifle. 
Keep in mind, we recommend to use portable heaters for indoor zeroing or to enhance your outdoor shots. The peel and stick heaters are included in your package. 
Package contains 3 targets and 3 heaters for only $29.00.
Features and Benefits:
No angle required so mounts on existing target backers. 

Lightweight and portable so it won't add weight to your rucksack.

Quickly mounts on an upright backer so no time wasted in set-up.
Built on Rite In The Rain™ paper to resist all forms of moisture. 
Exclusively manufactured by IR.Tools.  (Patent #US 7,528,397)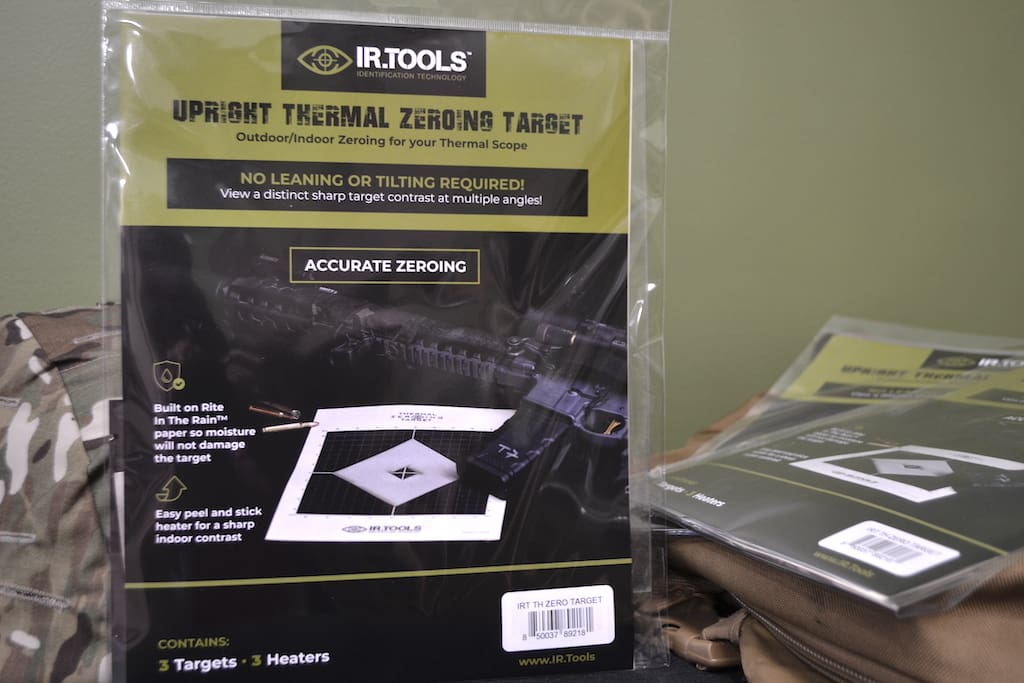 3 Targets/w Heaters
MSRP $29.00