4′ TIP Panels with High Contrast Film
IR.Tools™ offers a variety of  Combat Vehicle Identification for ground to ground or air to ground signaling for protection against friendly fire. 
These 4′ x 4′ thermal panels built with our High Contrast film attach to your tanks, trucks, humvee etc… and works in partnership with your FLIR devices. 
The film relays to your combat unit an accurate location and identification. In the end, safer and decisive actions are taken. 
FLIR and the Benefits of a Thermal Film Partnership
How Thermal Film Works
Thermal film projects an image different or contrasting from its surroundings because it reflects a cooler temperature in the scene.
Used in conjunction with a FLIR device, the high contrast thermal film is attached to people, animals, vehicles, or even the landscape. The FLIR device will read the temperature of the scene around the film which always appears warmer. Therefore the thermal film pops.
There are different settings on a FLIR device. Most military and law enforcement agencies use the  "white hot" or "black hot"  settings. Therefore the contrast of the film will appear either black or white.   
This passive film needs no illumination and will identify a subject or location through sand, smoke and fog.
Features:
High contrast pops image for a quick ID and location specs.
The 4′ x 4′ panels are designed for the ID of your larger assets… trucks, tanks.
Brown, Tan, Green High Contrast film available for camo purposes.
Backing of panel is thermal film or ripstop back… you choose!
View all our Panels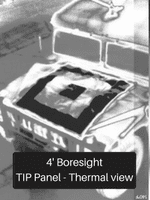 Some Panels Require a State Department Export License
3 Easy Steps to Solve Your ID Problems:
1. DISCOVER: We will listen and evaluate to Discover and better understand your problem.
2. DESIGN: Next, with this information, our engineers will Design a new ID or recommend an existing ID to solve your unique problem.
3. DELIVER: Finally, we will Deliver a premium IR ID patch or marker to protect you.