Field IR Patch – Custom IR Patches
To protect yourself against friendly fire in covert operations, a field infrared patch is your best choice.
This friend or foe (IFF) patch is seen under darkness with a Night Vision device (NVG) to keep you safe and hidden from the enemy.
Made with IR.Tools™ exclusive SandStorm Technology™... a unique technology with unmatched durability, 250% brighter glow, and white light protection.  Learn More
Available as an IR flag patch, call sign, morale, unit design, or your own special custom IR patch design.
Laser cut (picture to right) for a custom IR patch and printed styles. And over a dozen fabric choices to choose from.
Are you confused about what infrared protection you need?  Check out this blog that breaks down the what, why, and when to use infrared protection. Or contact us at 443.292.8885, we will be glad to guide your decision.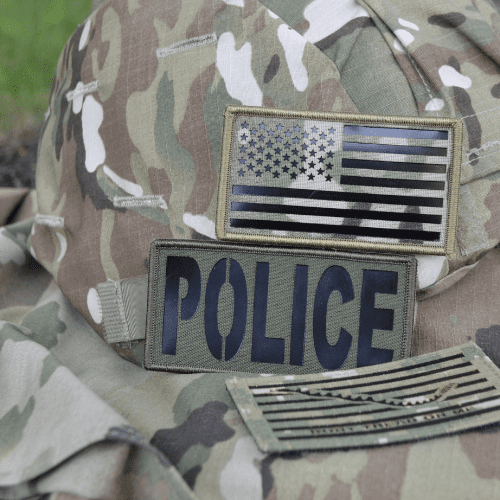 Built with exclusive SandStorm Technology™ for unmatched durability, 250% brighter glow, and white light protection.

Standard 2″ x 3.5″ hook back easily attaches to loop on your uniform. Custom sizes are available at your request.

You choose! Custom designs are our specialty. Our in-house engineers create your logo into a unique IR patch. Check out the vast # of custom designs in our photo gallery.

Choose from over a dozen fabrics to match your uniform.
Field IR patches are made with IR.Tools exclusive SandStorm Technology™.
SandStorm Technology™ uses perfectly formed micro prisms built as one seamless layer. Therefore, unlike honeycomb IR patches, water, sand, and debris do not damage the patch.
This patch absorbs white light (from a flashlight) and reflects only infrared energy so the patch keeps you hidden.
When a Night Vision illuminator (NVG) hits the patch, the patch will reflect the IR energy, the patch will glow, you and your location are identified.
We recommend the Field IR patch for covert operations.
More Information:
4 Reasons to Choose a Laser Cut Patch
3 Easy Steps to get your IFF protection:
 1. DISCOVER : Call 443.292.8885, email info@ir.tools, or fill out the BUILD YOUR PATCH form. 
We will talk to Discover what your needs are; including your operation, logo, and color choices.
2. DESIGN
Our engineers will Design your unique patch or recommend an existing patch. After your approval, the patch will go into production.
 3. DELIVER
Finally, Your IFF patch will arrive in 2-4 weeks.
Learn the differences in your IFF protection. Did you know there are different films to choose from? Click here to get the scoop.