What is this line on my IR patch?
To put it simply… the thin line on your IR reflective patch is a seam on the raw material that repeats itself about every 18″. It is the result of a unique tool we use to make your IR patch with one layer but unfortunately leaves a line on the film.
Overcoming the #1 complaint
When we first started designing our product in 2005, the #1 complaint we heard was that IR patches would fall apart in a short period of time. We were concerned with this problem and wanted to make a better patch. After much research, we had the answer… a 1 layer IR patch that would be more resistant to water, sand and other contaminations.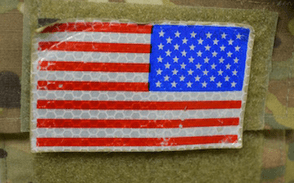 Is a thin line worth the difference?
Now we were faced with a decision.

"Make a 1 layer patch with a thin line but is more durable and protects longer

or make a 2 layer patch without a line yet falls apart?"
The choice was easy. We chose the 1 layer process – SandStorm Technology™. Considering men and women's lives were at risk, the durability of the patch was far more important than an intermittent blemish.
We believed protecting you (our soldiers and police) while you are working in dark and dangerous situations outweighed this occasional thin line.

US Army approved
As you can see in the picture, the seam in the patch does not have any impact on the IR glow protection.
Just to make sure, we had the patch evaluated by the US Army through Natick Soldier Systems Center. They determined the patch was perfectly safe for use in combat ID.
With the US Army's approval, we confidently moved forward. Since 2006 IR.Tools™ has manufactured and sold over 4.5 million IR patches all over the globe. We can proudly say we provide a premium IR protection to the US Military and it's Allies.
You are welcome to comment on this blog. You can also reach me at 443.292.8885 or TBoyer@IR.Tools
 The Author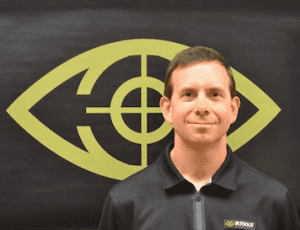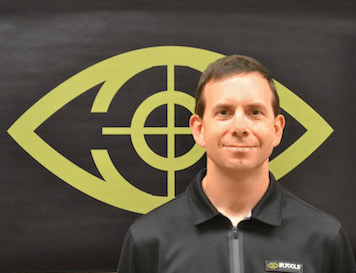 Tom founded IR.Tools™ in 2006. He has embraced manufacturing premium IR patches, panels, thermal markers, and thermal targets to better protect and train the military and law enforcement communities. Always the innovator, he is always thinking out of the box. Currently he has 21 awarded patents, and 14 patents pending. Tom received his BS and MS in Mechanical Engineering from the Univ. of MD, College Park and his MBA from Regents Univ.