The appearance and durability are just a couple reasons to smile when you look at your laser cut Hybrid patch on your uniform.
This patch is quickly becoming the ID patch of choice among our Military and Police units. In this case, "looks ARE everything," because not only does it look great but it also provides the same friendly fire protection you would expect from an IR patch.
YES, the laser cut patch looks great on your uniform!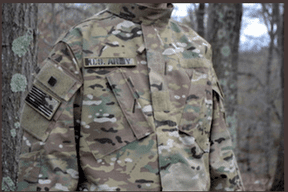 If we are honest, not everyone wants a laser cut patch because of its' durability in a sand storm. Most of our satisfied customers just love they way the patch looks on their uniform.
And they are 100% right!
This picture to the right shows a camo IR Name-tag (chest) and a IR US Flag (shoulder) attached to soldier's multicam jacket…Smile.
Go ahead and crawl in the mud
While all of our products are battle tested, the thick fabric on a laser cut patch will endure rubbing against walls, crawling in mud, and marching through blowing sand. In addition, the fabric will protect the IR film from scratching and losing any reflective glow. Your IFF protection will not be compromised!
Stronger edges holds patch together
The first place a patch will begin to breakdown will be along the edging. The #1 reason customers choose IR.Tools™ patches over the competition is due to our durable, non-delaminating edges. The over-edge stitching on the laser cut patch makes the edges even stronger .
Custom designs shows off your style
Whatever your style, the laser cut will capture the image you want to show off.
We work hard to create your logo, special unit, team or group image. Keep in mind, the function of the patch to protect you is not compromised in the process. 
 All our patches come with the 100% SandStorm Technology™ guarantee.
Still Affordable!
Does the enhanced look and added durability to your IR patch warrant additional cost?
Yes it does.
The good news is … while the cost is 50% more than a printed patch, you are receiving 100% more in appearance, quality and function.
1.You choose the Film : IR Reflective, Thermal or Photo-luminescent
2. You choose the Fabric: Click here to see all your fabric choices
3. You choose the Design… we can help: info@ir.tools
4. We deliver to you a Premium IFF patch!
You are welcome to comment on this blog. You can also reach me at 443.292.8885 or TBoyer@IR.Tools. I would be happy to connect with you through social media as well.
The Author
Through the eyes of a veteran and engineer, Tom saw a need and established IR.Tools™ in 2006.  He has embraced manufacturing premium IR patches, panels, markers, and targets to better protect and train the military and law enforcement communities.  An innovator who is always moving forward to stay ahead of the industry, Tom has 15 awarded patents, and 10 patents pending.  Tom received his BS and MS in Mechanical Engineering from the University of Maryland, College Park and his MBA from Regents University.