Has it happened to you?
The "wow" experience of an IR laser cut patch?
Of course you need protection, but the drab patches you wear… well, are boring.
Want a patch with some pizazz to represent you on the job? A patch that makes you feel protected and proud, without compromising safety?
Let me show you 4 reasons why a laser cut patch will make you smile.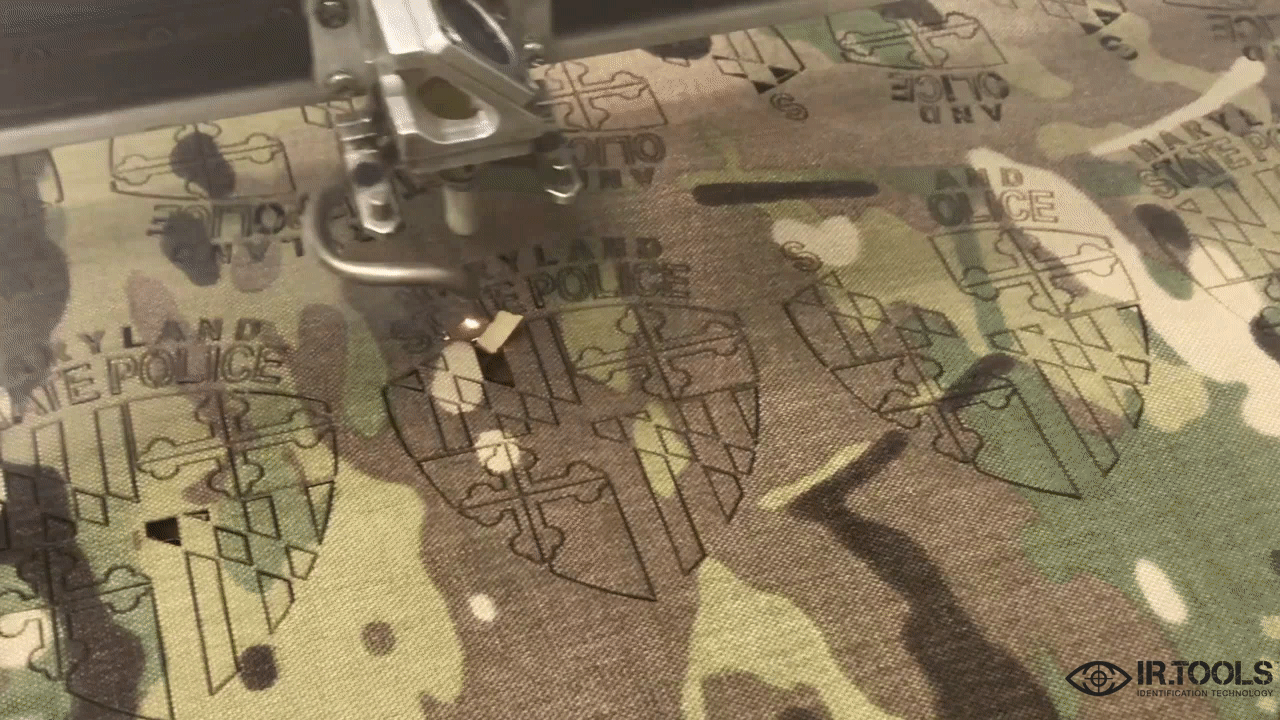 1. A laser cut patch looks fantastic!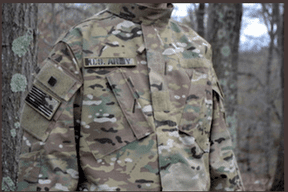 Police and Military like you wear a laser cut patch because it looks FAN–tastic! See picture to the right.
Are you a Fan yet?
The camo US flag blends seamlessly into the camo jacket. Instantly your jacket has a bit of swag.
We insure your IFF protection is not compromised when building this patch. Your safety is priority #1, your smile is #2.
While camo is the most popular fabric, you can choose from many other fabrics including coyote, OD green, and navy blue.
2. Tough against job abuse.
Go ahead and crawl in the mud! Your demanding job cannot destroy the reflective glow.
The heavy fabric protects the IR film from scratching. When your job calls to crawl in the mud, squeeze in tight places or march in blowing sand, your IFF protection is secure.
4. Stronger edges, stronger protection
Most often, the 1st place your IR patch breaks down is around the edges.
But not on your laser cut patch. The thick over-edge stitching on the laser cut patch strengthens the edges. No short-cuts here.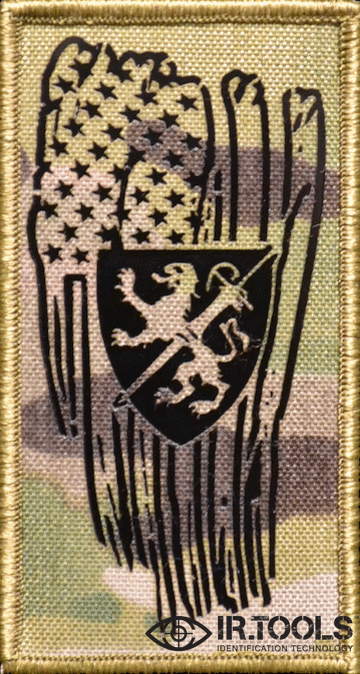 4. Affordable
Does your upgraded premium patch come with a higher price tag?
While you pay about 20% more, you receive 100% more in appearance, quality and function.
Your score?
A net positive!
Ready for your "pizazz" patch?
Do you see your design shine in the dark?
Great!
You are one step closer. Join the ranks of the many Military and LE who proudly display their patch.
Call 301.292.8885 or info@ir.tools.
Together with you, our engineers carefully design your patch. We do not build it until the unique design meets your approval.
You decide. We deliver!
I would be happy to connect with you on social media as well.
 The Author
  Tom founded IR.Tools™ in 2006. He has embraced manufacturing premium IR patches, panels, thermal markers, and thermal targets to better protect and train the military and law enforcement communities.  Always the innovator, he is always thinking out of the box. Currently he has 21 awarded patents, and 14 patents pending.  Tom received his BS and MS in Mechanical Engineering from the Univ. of MD, College Park and his MBA from Regents Univ.