A few years back, I was approached by local law enforcement.  He told me the use of thermal imagers in helicopters and drones was growing at lightning speed. He explained, "While we have experienced many benefits from the thermal imagers, we can't tell the difference between our vehicles and a suspect vehicle."
Up until then, my experience with thermal film was only for shooting targets and ID panels. 
I knew this was a problem IR.Tools could fix. 
After several strategy sessions with colleagues, I cut out an A and a 1 from an in-stock thermal roll.  We laminated some adhesive to the back and much to the chagrin of my children attached them to the roof of my Prius. Not exactly a police vehicle but would serve the purpose!
I didn't have access to a helicopter or drone, so I did the next best thing. 
I called the manager of a nearby tall building and got permission to use his roof.  With my thermal (FLIR) imager in hand, I climbed onto the roof and asked my assistant to drive by in the Prius. 
Sure enough I was right!
Looking down in my thermal imager, I saw clearly the contrast of the thermal A1 digits on the car. 
No doubt the thermal markers worked.
But how will they translate to a viable product for LE operations?
Thus began years of testing and research with thermal films.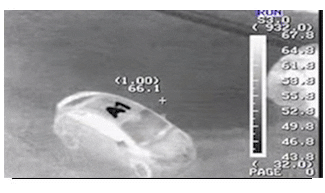 Fast forward 8 years
What started with evaluating 1 thermal film led us down a path we did not anticipate.
Today we have brought 4 different thermal films to market. 
And while in the end all 4 films are very similar in function, the differences are enough to warrant a careful examination to determine which is best for your job. 
Regardless if you use a helicopter or UAS thermal imaging sensors, hand held thermal imagers, or thermal weapon sights, the addition of thermal film will keep you safe and result in smoother operations. 
High Contrast Infrared Thermal Film
 Our original thermal film and like its name, the film produces a high contrast in the range of an emissivity of 10-20%. Keep in mind, the lower the emissivity the better the contrast.
The better the contrast, the better your device detects it, and the better your results.
Who uses the film?
The Military, Law Enforcement, Sportmen, and Hunters use high contrast film primarily for training shooting targets.
How the film is used
Shooting Targets – #1 use of

 the film is training and zeroing your thermal weapon sights. The targets are cut from the film in a variety of shapes and sizes. Custom images are printed on the film for life-like training scenarios. 

Vehicle Identification –  When durability is not a factor, the high contrast film is built on a magnet for quick on and off applications. Improves communication between air and ground units.
Personal Identification : Good to detect the good guy from the suspect. Attach to head, shoulders, chest, or back.
TIP Panels – Thermal identification panels used by the military for landing markers and vehicle ID. Improves communication between air and ground units and prevents friendly fire.
Durability
GOOD ★★★★
Not recommended to be left outside in the elements. Chemicals will destroy the outer coating. Scratches easily and has a 6-12 month life expectancy.
Emissivity 
GREAT ★★★★★
By far the best thermal film contrast available. If durability and longevity are not a concern, this film is for you.  
More Features
Available in tan, green, and brown

Peel and Stick or magnet backing
Extreme Infrared Thermal Film
Built for those rough and tumble outside operations.
Emissivity is slightly higher than our high contrast film coming in at a range of 30-40%. 
Who uses the film?
Operations that benefit most from Extreme thermal film are law enforcement agencies; Police, Sheriff, FBI, Secret Service, and  Border Patrol. Search and rescue, SWAT, K9 and surveillance operations. 
How the film is used
Vehicle Identification – #1 use of

the film is infrared thermal markers attached to vehicles with a permanent adhesive or strong magnet. The targets are cut from the film in a variety of shapes and sizes. . 

Personal Identification – Thermal patches are attached to officers and K9 to monitor movements on the ground and to distinguish the good guys from the suspects. Sportsmen also wear to prevent mistaken identity. 

Ground Control Points –Custom film shapes provide surveillance details, data collection, research and development feedback, and information from those hard to reach places.
Durability
OUTSTANDING ★★★★★
What you trade in contrast is gained in extreme durability. Built for outside abuse, this film has a 3 yr. life expectancy.
Emissivity 
GOOD ★★★★
 A slightly higher emissivity translates into a good not great contrast in comparison to the high contrast film. Film produces a more than adequate contrast for identification and protection. 
More Features
Available in black

Peel and Stick and Magnet backed
Sensational for the target training! No angles are needed. The random micro reflectors built into the film assure a great contrast. 
Emissivity falls in between High Contrast and Extreme at 25%. 
Who uses the film?
Military, Law Enforcement, and Sportsmen who shoot with thermal optics. 
How the film is used
Target Training– #1 use of

the film is target training. Targets are mounted in a vertical position resulting in an

exceptional training experience.
Durability
GREAT ★★★★★
Targets are built for outside use and take hundreds of hits, (# depends on caliber size).
Emissivity 
VERY GOOD ★★★★
The low emissivity translates into a very good contrast.
More Features
Available in grey

Peel and Stick 
Clear Infrared Thermal Film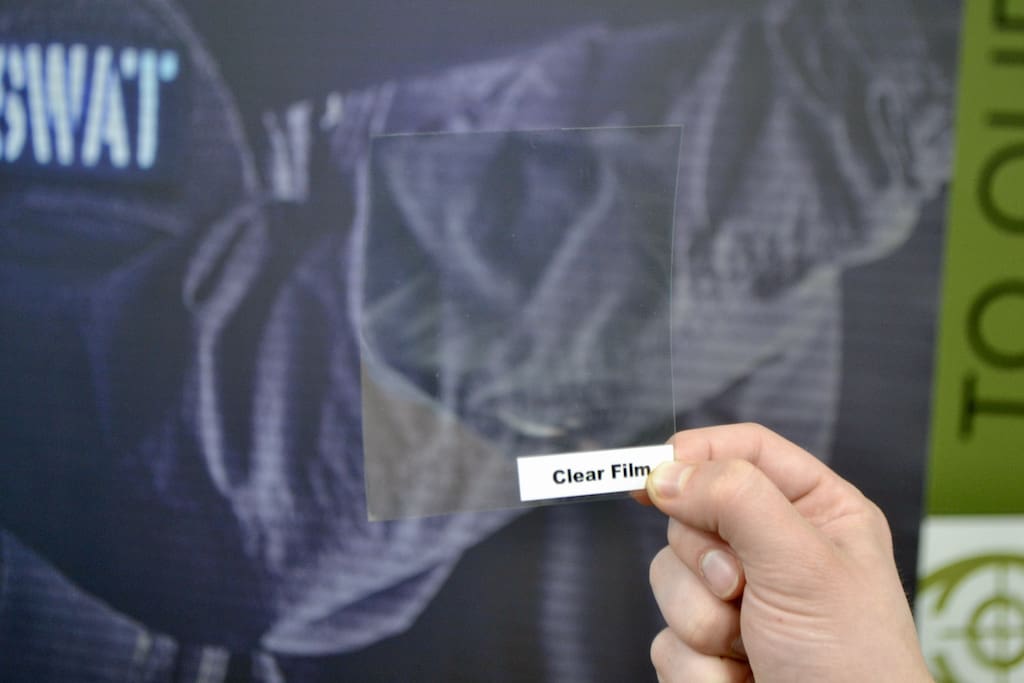 Like its name indicates, this film is clear and transparent.
Built for more covert operations and less detection by the naked eye. 
Who uses the film?
Law Enforcement use this film for undercover operations. 
How the film is used
Mark a suspect or undercover vehicle to covertly track its' movement.
Durability
GOOD ★★★★
A 1 yr life expectancy
Emissivity 
FAIR ★★★
The 30-40% emissivity of the clear film is almost half of our high-contrast film.
Start now to improve your outcomes
In the end, if your operation deploys thermal imaging devices of any kind, include High Contrast, Extreme, Upright or Clear thermal film. The results will amaze!
Start now to improve your shooting target training, eliminate your confusion, and boost your protection!
Contact us and begin the conversation!
Schedule a short meeting with Tom and learn more!
443.292.8885 … Ask for Tom
 The Author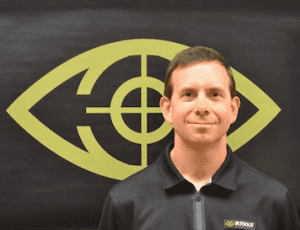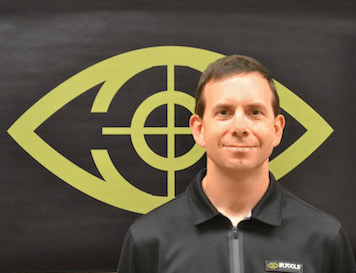 Tom founded IR.Tools™ in 2006. He has embraced manufacturing premium IR patches, panels, thermal markers, and thermal targets to better protect and train the military and law enforcement communities. Always the innovator, he is always thinking out of the box. Currently he has 21 awarded patents, and 14 patents pending. Tom received his BS and MS in Mechanical Engineering from the Univ. of MD, College Park and his MBA from Regents Univ.