New! Powered Thermal Shooting Target
Do you own a thermal sight ?  Are you frustrated with the lack of thermal targets to practice with?
IR.Tools has been innovating passive thermal targets for your thermal sights for the past 10 years.
And we are excited to now offer a powered thermal target built with Upright Thermal film and Fabroc Heat Technology™. 
This special powered thermal target maintains a superb thermal contrast and is nearly indestructible.
The FabRoc® heat technology is a proprietary rubber-like material built into the target to provide the extra heat needed for a distinct contrast.  Looking through your thermal optics you will see your image "pop-out" either black or white, depending on the palette setting of your sight.
The durability and contrast of this powered target are unrivaled.
Even Fort Bragg Special Forces who train with the FabRoc® powered thermal target are impressed with the target's longevity.
NSN # 6920-01-694-6312
"The unmatched number of shots it takes while maintaining a clear, realistic image to shoot is incredible."   — Range Manager Fort Bragg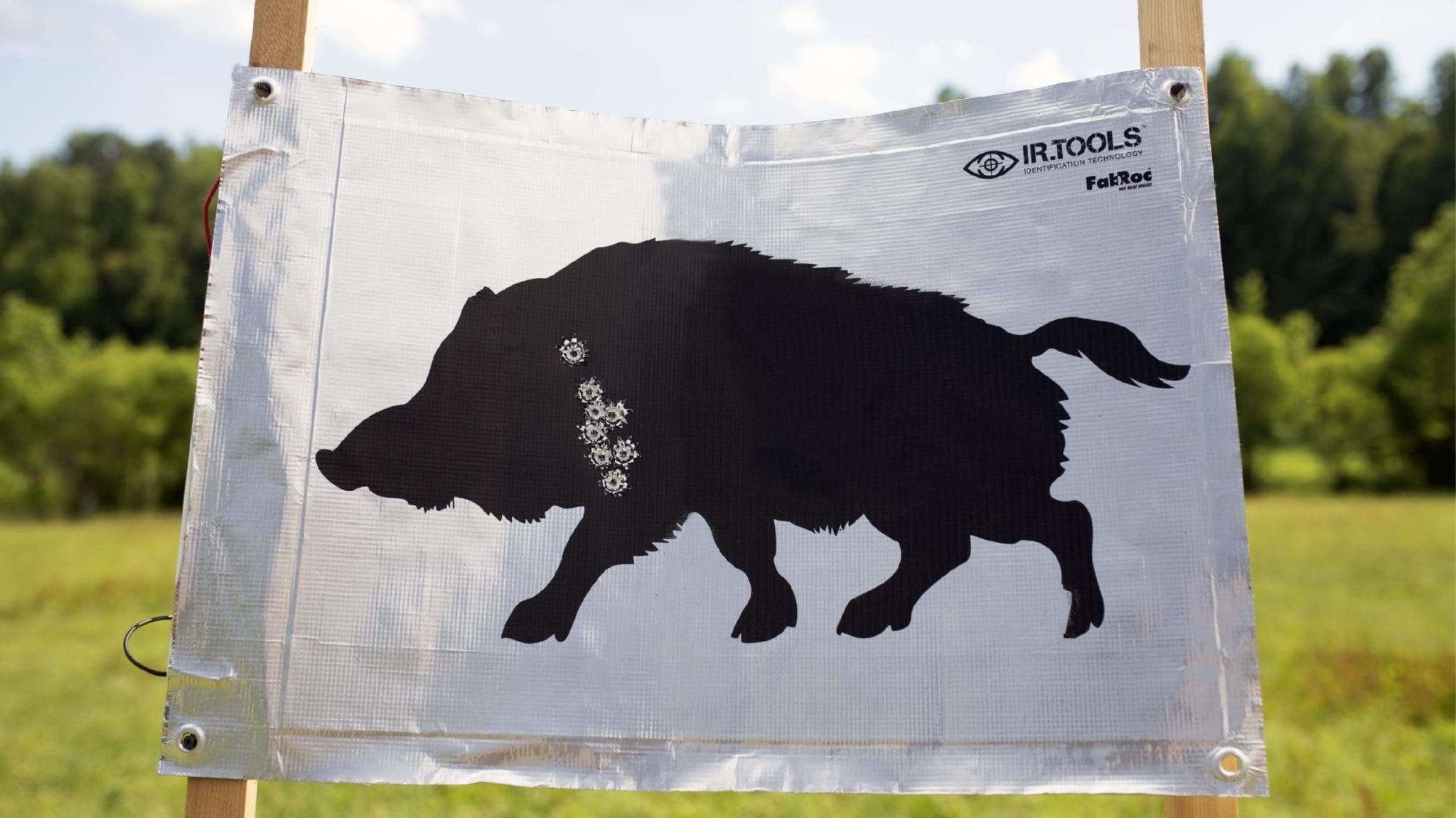 Help?
We want to help you find the right target for your situation. 
Call 443.292.8885
or fill out this Contact Us form.
Give us a call at 443.292.8885 or fill out our contact form. 
Or you can click the link below and purchase now from our preferred dealers.
And why do you need them?
If you own or work with a thermal weapon sight, a thermal target is valuable for 3 reasons. 
1. Accelerate your learning curve with your sight. 
2. Zeroing your weapon is easier and more precise.
3. Good practice will prepare you for those life-saving or kill shots. 
A paper target will not give you the feedback you need to train with your thermal sight. 
A thermal target is different because it reflects the heat energy in the target's surroundings and creates a life-like contrast. The different temperatures in the scene appear in different colors. The target is always a different temperature. 
A paper target cannot do this.  It will appear the same color as its surroundings. 
Depending on the palette settings of your sight, the contrast will be white hot, black hot or a color contrast blend.
Read more about how your color palette works here.
1. 6 Advantages for Passive Shooting Targets,
2. How your Passive/Thermal Shooting Target Works and Why You Need One
8 Dynamic Features and Benefits
1. Nothing Safer — No wires to short circuit or catch fire after bullet breach.
2. Extended Durability — Remains intact for over 500 rounds.
3. Energy Efficient — Powers up on low voltage batteries.
4. No Flaring — Thermal heat contrast is consistently distinct.
5. Shoot inside or outside — No limitations for your shooting.
6. Train Like You Fight — Hot Target is More Realistic.
7. Easily Mounts — Staple or Hang with Standard Grommets.
8. Dual Functions — No power? No problem, the target defaults into a passive target outside.
Learn more about why you would choose a passive thermal or a powered thermal.
| | | |
| --- | --- | --- |
| Target Specifications | 12v | 24v |
| | | |
| Temperature Differential | 10C/50F | approx 25C/77F |
| Current Draw | 1.15amp | 2.3amp |
| Power | 14 watts | 55 watts |
| Life on 5590 battery | 13hr | 3.25hr |
Power Requirements:
1. 12/24v Battery with Cable
2. Generator or Line Power with Transformer
Choose one of the following options:
| | | | | |
| --- | --- | --- | --- | --- |
| Option | Power Source: User  Supplied | | Cable/Transformer(IR.Tools) | Part # (IR.Tools) |
| 1 | 24v battery with lug terminals that accept alligator clips | Plus | 48″ SAE quick disconnect cable with alligator clips,12/24v | T-0049-00-001 |
| 2 | BA5590 battery | Plus | 48″ SAE quick disconnect cable with BA5590 connector, 24v | T-0049-00-002 |
| 3 | 120 VAC via line or generator | Plus | Transformer with SAE quick disconnect termination, 24v out, 120VAC | T-0050-00-001 |
| 4 | Other power sources | | Please call 443.292.8885 | |
Frequently Asked Question for your Powered Thermal Target.
Download the Free Guide
How to Sharpen Your Customers' Thermal Scope Training